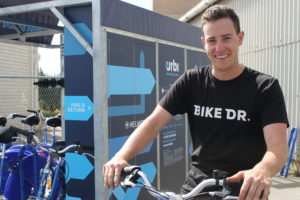 In Perth, urbi founder and bike-share enthusiast Adrian Lee said: "Urbi bikes are a fantastic way to get around and many people will soon find them quicker and easier than cars or buses. We have every confidence the WA community – will embrace urbi blue bikes and they will be seen everywhere."Urbi, established in Perth by the owners of BikeValet, has recently assembled 250 bikes in its warehouse. The company employs five staff, both full time and part time, who are based at its Perth office.
Urbi plans to continue to build on its relationships with local communities and ultimately seeks to establish many bike-share programs in various convenient locations in WA.
Urbi has the support of many organisations such as cycling organization, Westcycle, and BWA.
Many cities around the world have bike-sharing facilities and the benefits of more people using them include: reducing traffic congestion, and increased exercise and convenience for the user.
Urbi is Perth's first bike-share initiative.